Warrawindi muscles its way to $10,500 top
BY CATHERINE MILLER, The Stock Journal
---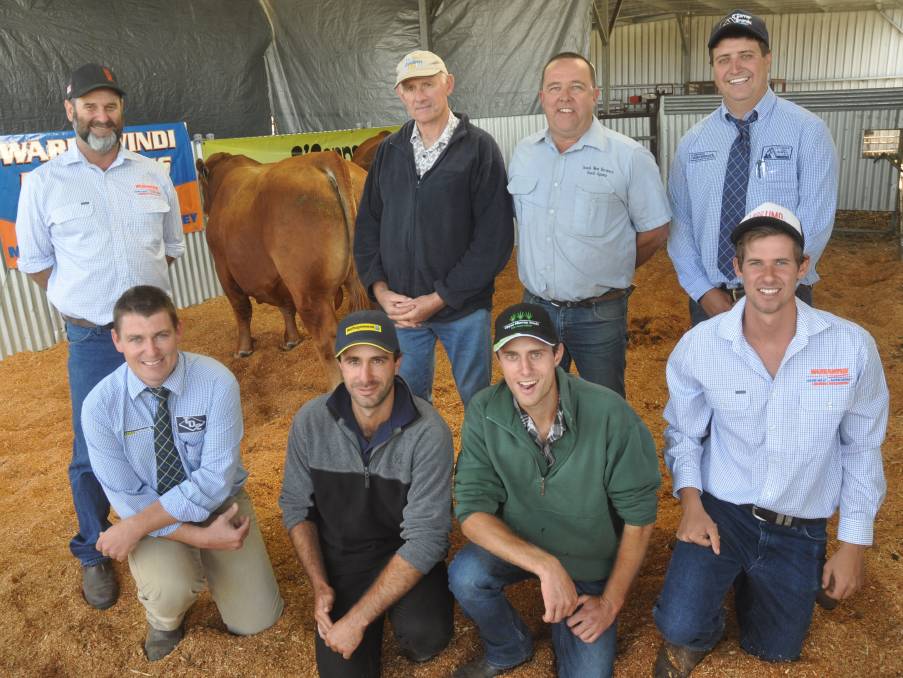 ROCK SOLID: The $10,500 sale-topper with David Galpin, buyer Ian Mibus and sons Nathan and Aiden (front centre), South West Farmers' Michael Goldby, auctioneers Ethan Bronca and Matt Treglown and Mason Galpin.
THE first son of Candian sire B Bar Titanium to be offered at sale in Australia made the $10,500 top price at Warrawindi Limousin's eighth annual bull sale on Friday at Penola.
The April 2015-drop Warrawindi Red Label L40 had impressed the Galpin family with its structural soundness, docility and excellent bone.
They used it as a yearling in the stud over 13 heifers and as a back-up bull for the 25 cows in their artificial insemination program.
The 824-kilogram, apricot-coloured bull had elite Breedplan figures, ranking in the top 1 per cent of all growth traits, milk and scrotal.
It had also been DNA tested as homozygous polled.
Red Label L40 will be used over Angus-Friesian cows by first-time Warrawindi buyers Ian Mibus and sons Nathan and Aiden.
The Mibuses, who were buying through South West Farmers agent Michael Goldby, were impressed by the early growth figures and said it was a "good vealer type".
Warrawindi sold 24 well-muscled bulls with plenty of softness in a total clearance, averaging $6083 – up nearly $400 on the 2016 sale.
Twenty registered bidders packed into the stands, with the majority of bulls selling into the Lower South East and western Vic.
Allan Chaplin, Tintinara, paid the $9000 second-highest price for lot 5 – Warrawindi Lance – a growthy bull packed full of meat.
The 21-month-old tipped the scales at 818kg – the second heaviest bull in the draft.
An AI-bred son of outcross sire RLF Xman 573X, it smashes the breed averages for growth and mature cow weight.
Mr Chaplin also bought Warrawindi Leeroy for $5000.
Commercial vealer producers were the strength of the sale, but the diversity of Australian and imported bloodlines attracted stud buyers Greg and Marilyn Frost, Frontiere, Tyrendarra, Vic. They bought Warrawindi Limitless for $6000 as their new herd sire.
The 22-month-old son of well-known United States sire Wulfs Nobel Prize had plenty of shape and presence.
The highest price black Limousin was Warrawindi Lord, which sold at $7000 to Tom Bignell, Glencoe.
Multiple buyers included Iluka, Millicent, with three bulls averaging $7500.
I Hunt & Sons, Kalangadoo, bought two bulls at $8000 and $4000, including the only son of Wulfs Xtractor X233X.
John Carmichael, Lake Mundi, also bought two bulls at $5000 and $4000.
Thomas DeGaris & Clarkson auctioneer Matt Treglown said it was a consistent sale, which reflected the high quality of bulls.
"To not have an extreme top end, but still average what we did, was tremendous," he said.
"The black bulls were more popular last year, but this year there was a swing to apricot bulls and having a couple more buyers from South West Vic was very good to see."
Warrawindi stud's Mason Galpin said the much improved season had helped them present the bulls in great condition.
He said although the saletopper was the only Titanium son offered, there would be more bulls available in next year's sale.
TDC Penola conducted the sale with O'Connor & Graney Mount Gambier, while Ethan Bronca also shared the auctioneering duties.
Warrawindi has a bull and female reserved for the Limousin National Show & Sale on May 4 and 5 at the Wodonga Exhibition Centre, Vic.
They will also be exhibiting at the Limousin feature show at the Sydney Royal Easter Show.